Founder Fundamentals
Developed in partnership with the Markham Small Business Centre, Founders Fundamental is a 12-week educational program designed to help you kick-start your entrepreneurial career.
Whether you are a professional services company, brick and mortar or technology startup, the program aims to equip you with the essential skills and knowledge needed to succeed. Spanning across topics such as Business Plan Writing, Social Media for Startups, and Legal Basics for Founders, this program provides a wide range of learning and is designed to support our diverse community of aspiring and early-stage entrepreneurs.
The series will start again on January 24, 2023.  Sign up now for all of the sessions on our events page 
*Please note, if you attend 9 out of the 11 sessions then you are eligible for a Certificate of Completion from YSpace at York University.*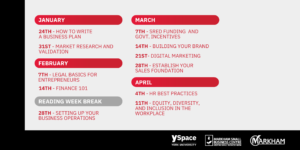 For access to previous sessions, please click here to see our YouTube channel and subscribe today to stay up to date on the latest content. Here is a couple to get you started.