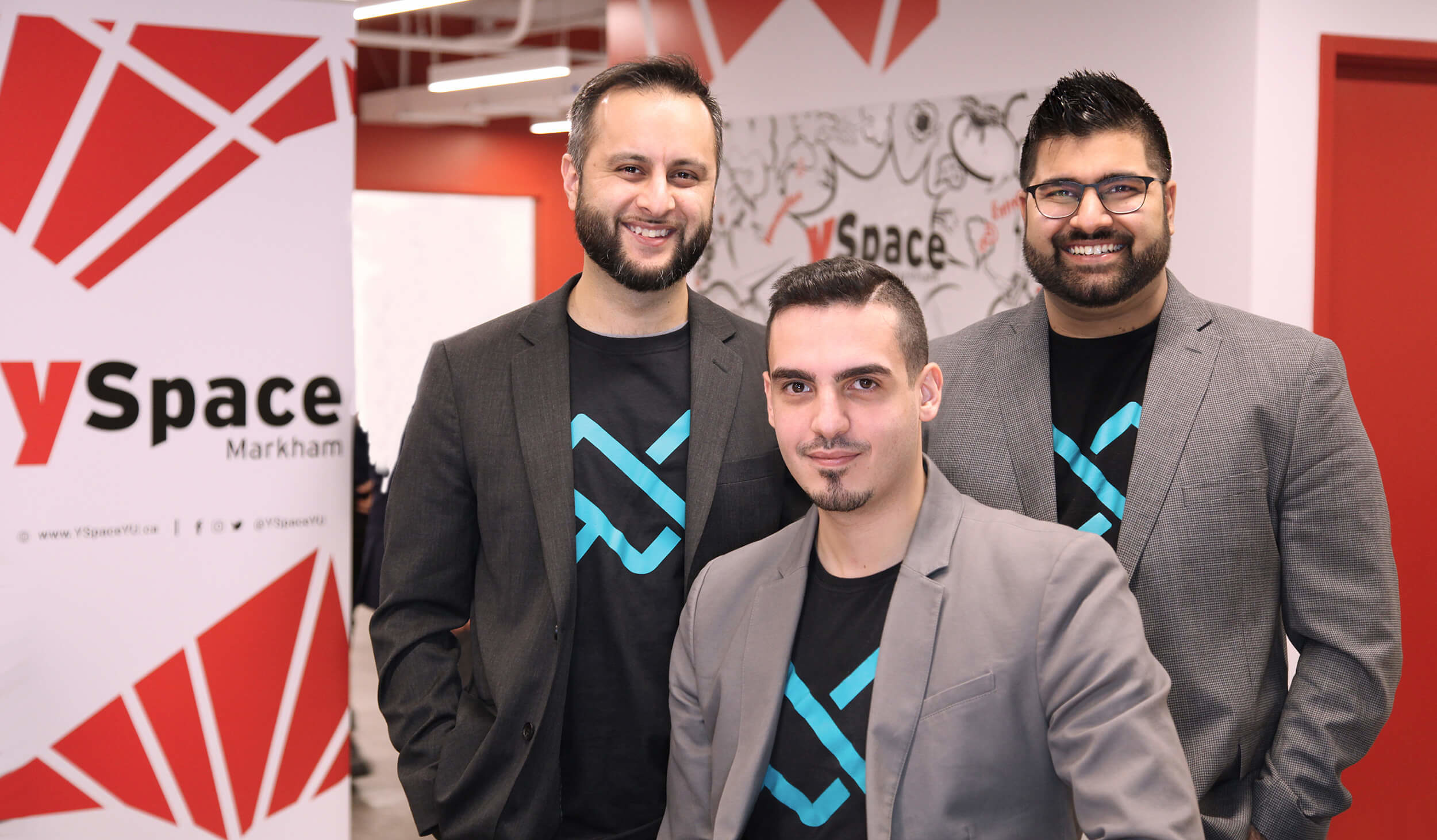 Image of Co-Founders: Abbas Ali (Chief Product Officer), Adam Hijleh (Chief Technology Officer) and Muhammad Rashid (Chief Executive Officer) from the Doorr Team
Doorr, a startup alumnus of YSpace, has recently been acquired by Filogix (a subsidiary of Finastra, a UK based FinTech Comoany) in October 2020. This acquisition allows Doorr to accelerate their growth strategy to further cement their position in the Canadian market.
"The addition of Doorr will bring cutting edge features backed by the talented individuals that join us from the company," says Finastra's Siobhan Byron, SVP, Technology Enabled Managed Services (TEMS). "Combined with our deep expertise and leading position in the Canadian brokered mortgage market – together we can improve the borrowing experience for consumers, brokers and lenders."
Doorr, founded in 2018, was originally known as Moregidge; the company made many pivots with their business model and branding as they grew. During this time Muhammad Rashid, Co-Founder and CEO of Doorr, was searching for an entrepreneurship incubator to gain support and access a knowledgeable network. It was in Toronto's Dundas Square where Muhammad met with David Kwok, the Associate Director of Entrepreneurship at Innovation York, who was the YSpace Entrepreneurship Manager at the time. David's genuine character and attention-to-detail was just two of the factors that contributed to Muhammad and partners' interest in YSpace.
"I liked that YSpace focused on accepting a smaller group of entrepreneurs where they were able to provide enough attention and time to check-in and help each individual," says Muhammad.
In July 2018, Muhammad and partners first engaged with the YSpace 12-week Founders Fundamental program. Throughout this program, Doorr was able to gain insights on every aspect of business (including financial planning, running accounting, and effectively raising capital) along with drawing experience from mentors and industry professionals. One important takeaway that Doorr received was understanding where their target audience lives and where they spend their time most. This information prompted Doorr to learn that mortgage brokers spend a significant amount of time on Facebook and Instagram. This finding led them to increase their presence on these platforms in order to increase brand awareness. Among others, this is one clear example of how Doorr was able to implement important lessons to reinvent their marketing efforts and foster company growth.
YSpace provided frequent check ins with Doorr, during their time in the program and after graduation. The team at YSpace assisted with fundraising efforts, connecting Doorr to their diverse network and resources, and ensuring that Doorr's brand message was amplified. YSpace continues to stay connected and follow up with current updates.
At the moment, Doorr is looking into further developing their platform and building connections within their new parent company to take their company to the next level. Building a better mortgage experience for Canadians has always been a key objective, and this acquisition is the perfect steppingstone to make that goal a reality ahead of schedule.
Doorr has come a long way from their humble beginnings in 2018. From, joining the YSpace program to kick start their business, this company is an excellent example of how success can be attained through hard work, dedication, utilizing community resources and workshops, and generating awareness for your brand. YSpace is proud of Doorr's accomplishments throughout the years, and it is exciting to see how this new acquisition will further their goals and efforts.
Further Information about Doorr and Filogix
Doorr's digital platform is able to simplify the mortgage process by allowing mortgage brokers to collaborate with applicants from application submission to mortgage funding. The company has successfully been able to integrate all of the core brokerage functions into a single online platform that simplifies the process for mortgage brokers. This was achieved through working with innovative tech companies to ensure this online resource was helpful and easy to use. Doorr's platform ensures that these brokers have full ownership of their data in order to update client information consistently.

Filogix has served in the Canadian Mortgage marketplace for almost two decades and has been an industry leader in providing reliable connectivity to brokers and lenders. Filogix is owned by Finastra, one of the world's largest financial technology companies and is consistently changing how financial software is being developed and used. Finastra is based in the UK, and has been working with over 9000 customers, including 90 out of the top 100 banks globally.