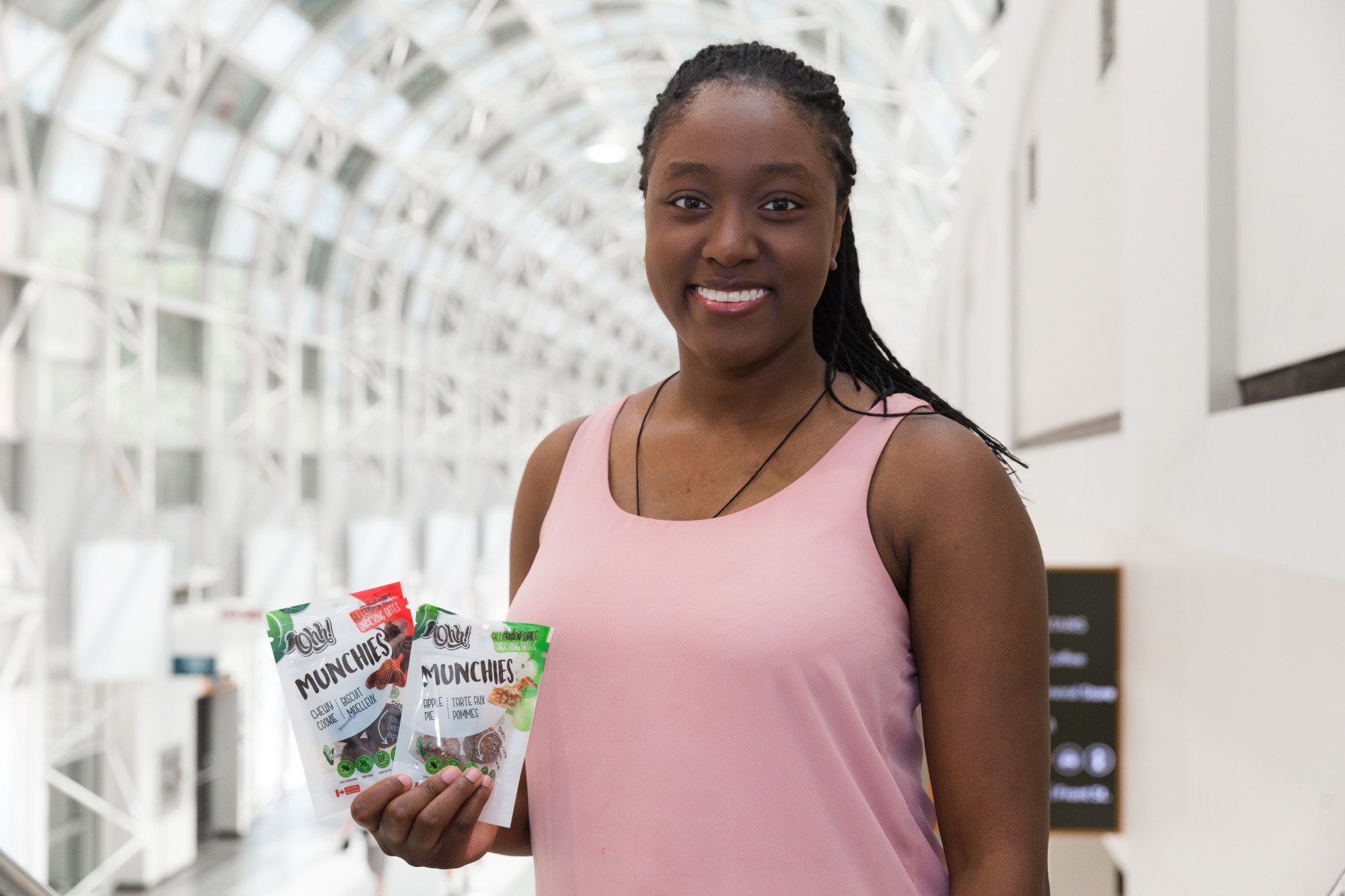 Ever since suffering a severe food allergy when she was 18, YSpace entrepreneur Brittany Charlton has been committed to filling the gap for allergen-free snacks. In 2017, she founded Ohh! Foods with a single product: Coconut Brownie 'Munchies' that were free from the top-10 allergens in Canada.
Now, two years, two packaging updates and two new flavors later, Ohh is positioned to become a household name in the healthy snacking space. Just this year, the company massively upgraded their production and got their Munchies into major retailers such as Metro, Sobeys, Bed Bath & Beyond and Foodland, with more exciting partnerships in the works.
Brittany credits a lot of their early success to the strong relationships she's been able to build in this short time. "Building relationships is really a major goal of ours," she said. "It's opened us up to a lot of opportunities we'd otherwise be unable to find."
For the Ohh Foods team, a lot of this work is done directly on the ground. Brittany has built personal relationships with managers and employees at her major retailers. "Building relationships with different people in your stores is super important," she explained. "Once they see that you're just trying to move product and help them, they're a lot more willing to help you as well."
The team visits their retailers every other week to personally restock their shelves and have handed out Munchies to cashiers so that they're familiar with the company. Brittany is in constant contact with her retailers, asking questions about the product at the store – is it positioned in the best way to make it stand out? Is the packaging easy to scan at the register? This feedback lets the company improve their product and build relationships that have led to in-store opportunities they wouldn't have had otherwise.
At a customer level, Ohh is focused on building a community. "We sell snacks, but we're really a mission-based company," said Brittany. "We want to understand what inclusive snacking looks like for multiple people around the world." With this in mind, Ohh connects with customers through one-on-one reach outs and their official Facebook group, the Ohh Allergen Community.
As Ohh Foods continues to grow, Brittany is working towards taking her products to the mass market, bringing awareness to the food allergy community and eventually giving back by providing EpiPens to those in need. Her biggest piece of advice to other food entrepreneurs is that "closed mouths don't get fed – if you need help, you need to ask for it!" For Brittany and Ohh Foods, a lot of this help has come from the YSpace community.
"Closed mouths don't get fed – if you need help, you need to ask for it!"
Through the space, Brittany has been able to connect with Awake Chocolate co-founder Adam Deremo and Entrepreneur-in-Residence Judy Chang, who has 20+ years of experience in the food industry with Kraft and Mondelez, to discuss things like pricing and international expansion. She also mentioned that YSpace workshops like the Founder Fundamentals series have helped her refine her strategy for landing big accounts.
YSpace is looking to deliver all this value and more in our upcoming Food Accelerator program. The goal of the program is to scaleup promising food and beverage consumer-packaged good ventures just like Ohh Foods. From September to February, selected companies will be invited to join us at the YSpace facility to work through five essential components of their business: product packaging, pricing, operations, sales strategies and scaling. Companies will connect with mentors from the YSpace network for each phase of the program and will have opportunities to learn from the founders of Awake Chocolate and Pur Gum, as well as executives from some of Canada's biggest CPG companies.