When:
March 8, 2021 @ 12:00 pm – 12:45 pm
2021-03-08T12:00:00-05:00
2021-03-08T12:45:00-05:00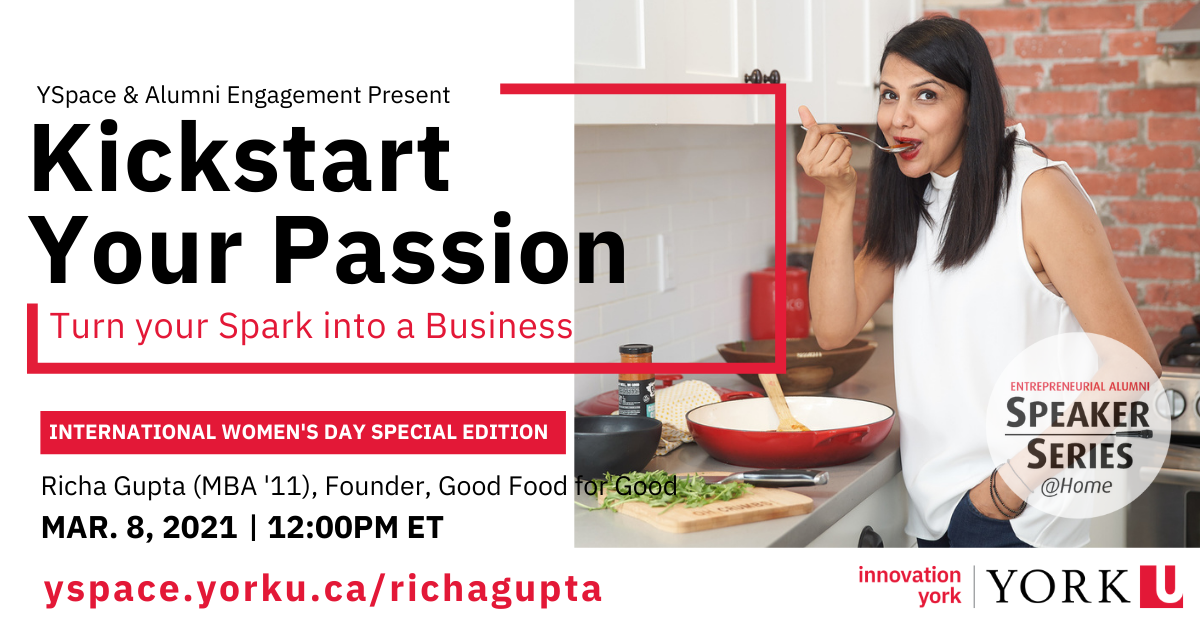 International Women's Day Special Edition
In this 3 part series, our speakers will dive deep into their experiences as an entrepreneur, exploring their success, failure and lessons.
About this Series:
YSpace has partnered with York University's Alumni Engagement to bring you an at home edition of this series which features top York University alumni entrepreneurs. Each part of the series will aim to capture the real stories, challenges, successes and failures that they have encountered in their journeys.
These talks are meant to INSPIRE, MOTIVATE, and EDUCATE the audience on the realities of launching a startup in today's world.
About this Talk:
Richa started Good Food For Good as an answer to her calling. Who knew an event 15 years ago would have left her wanting to do something that matters for over a decade?
Richa will share with you how she discovered her calling and how her successful venture allows her to live her purpose everyday. Get an insider's look at this York University alumna's story plus the exclusive chance to ask Richa your question!
Speaker:
Richa Gupta, President & Founder, Good Food for Good
The pursuit of a dream to help consumers lead healthier lives, the company started with two questions: how to make healthy food taste great and how can it change the world? Good Food For Good was founded in 2013 by entrepreneur and mother Richa with a simple idea: making it easy for everyone to eat well and do good. With an MBA & over fifteen years of experience in retail, fashion and food marketing, after becoming a new mom working as a marketing executive, she constantly found it challenging to feed her family good food on busy nights. She grew frustrated with all the compromises she was expected to make for convenience. Driven to make a difference through food, she started Good Food For Good using only ingredients you would add if you were cooking yourself.
"I grew up in a family where my mum cooked fresh food, three times a day. So even just grabbing a pizza for dinner, as a working mom, I had so much guilt over not being able to cook healthy food for my kids. Anything that my mother did for me was the best that I wanted to do for my own child."
Today, she is actively working on building better, healthier experiences for people with a goal to feed 1 Million.
Entrepreneurs Panel:
Apply now to engage with our speaker live during the event and get your question answered! Panelists must be willing to have their camera turned on while asking their question and email us at yspace@yorku.ca by February 28th at 5pm.