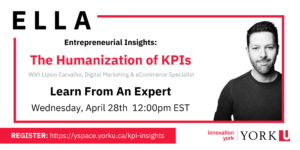 How do you select, understand and leverage KPI's (Key Performance Indicators) that truly drive growth in your business?  
Join us on Wednesday, April 28th as we sit down with Lipsio Carvalho, Director of eCommerce at Beatnik & Sons. He'll be breaking down the process of humanizing KPI's. Learn who is behind those KPIs and how to better communicate with them. Imagine being able to clearly define your people in the numbers and pivot on a dime to serve their immediate needs. We'll discuss Lifetime Value, Customer Acquisition Cost, Return on Ad Spend, and Conversion Rate for Digital Platforms, all critical KPIs when accelerating your business.  
The first part of the session is a moderated conversation followed by audience Q&A. Bring your critical thinking hat and get excited to ask questions and join in the conversation!  
About our Panelist: 
Lipsio Carvalho is an eCommerce specialist and digitamarketing professional who has combined a love for technology with experience as an Executive Creative Director in ad agencies all over North America and South America for the past 20 years. Lipsio is currently leading the team of Beatnik & Sons, an ethical DTC fashion brand that manufactures luxury leather backpacks with offices in Brazil and Canada as well as a team of creatives at Paso, a creative boutique, specializing in brand building and creative executions based out of Brazil.
He also worked as Creative Director at several in-house agencies as well as in top-tier agencies in Brazil and the US. Creativity was always crucial to his work as a Marketing Director and Manager, building strong brands in the tech, blockchain, finance, newsmedia, and education industries. Some of his stories and experiences have been shared with over 1,200 students for the past 12 years, as he worked part-time as a university professor on design, marketing and advertising courses.