When:
September 28, 2021 @ 6:00 pm – 8:00 pm
2021-09-28T18:00:00-04:00
2021-09-28T20:00:00-04:00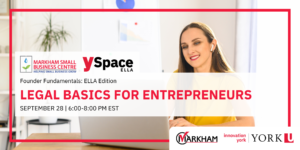 Founder Fundamentals is an 11-week virtual workshop series designed to help you kickstart your entrepreneurial career.
About Founder Fundamentals
Interested in building your entrepreneurial skills to launch your startup? 
YSpace, York University's entrepreneurship hub, is partnering with the Markham Small Business Centre (MSBC) to host a 12-week virtual educational program called Founders Fundamentals. The workshop series is designed to help participants gain the basic skills and understanding necessary to start a business. The ultimate goal is to provide participants with an educational platform, while connecting them with local resources for potential next steps as they progress in their entrepreneurial ventures. This special "ELLA Edition" of Founder Fundamentals is held in collaboration with ELLA, York University's community for women entrepreneurs, and will feature women facilitators with workshops designed to support our diverse community of aspiring and early-stage entrepreneurs. 
Individuals who attend at least 9 out of the 11 workshops will receive an Innovation York Certificate of Completion, illustrating their dedication to learning about the essentials of launching a successful business.
About the Workshop
We know entrepreneurs think and dream big; and that is what makes them so unique. But, as you are dreaming up the next best idea, it is important to take a step back and to ensure that you build and secure the legal foundation of your business. Your lawyer will help you do this, but it is important to know the right questions to ask and to understand some key legal principles to spot potential issues and to resolve them early. 
The goal of this workshop is twofold: (1) to ask and to answer some of the key questions every entrepreneur should ask his or her lawyer at the early stage of starting a business, and (2) to explain in plain English and to help you understand the key legal principles with which you should be familiar. 
This workshop aims to cover the following questions and principles: 
Business Structures: Choosing between incorporation, partnership, and sole proprietorship. 

 

Shareholders Agreements: What they do and why your business may need one. 

 

Confidentiality Agreements: Importance, key terms and provisions. 

 
Hiring Employees and Contractors: The critical differences between employees and contractors. 

 

Entering into a Commercial Contract: Understanding the critical terms and provisions to consider. 

 

Website Terms of Use & Privacy Policies: Understanding the importance of these and when they are required. 

 
*Please note that this workshop does not constitute legal advice.
About the Presenter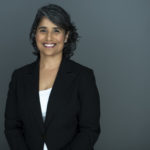 Amee Sandhu, CEO, Founder, Principal Lawyer
Lex Integra
Amee Sandhu is the principal lawyer of Lex Integra, where she practices exclusively in the areas of business law and corporate ethics.   Lex Integra was one of the start-up businesses that was selected to be in the inaugural cohort of the ELLA program at York University early in 2020.  ELLA is the Entrepreneurial Leadership & Learning Alliance and is a business accelerator to advance women's entrepreneurship.
Prior to founding Lex Integra, Amee held roles as senior legal counsel and integrity officer for many years in the engineering and construction sector.   She teaches business law to undergrads and mentors young & future lawyers.
*Zoom link will be accessible in your Order Confirmation page emailed to you after registration (click on "Go to Online Event").