When:
March 22, 2022 @ 6:00 pm – 8:00 pm
2022-03-22T18:00:00-04:00
2022-03-22T20:00:00-04:00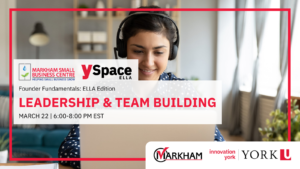 Founder Fundamentals is an 12-week virtual workshop series designed to help you kickstart your entrepreneurial career.
About Founder Fundamentals
Interested in building your entrepreneurial skills to launch your startup?
YSpace, York University's innovation hub, is partnering with the Markham Small Business Centre (MSBC) to host an 11-week educational program called Founders Fundamentals.
Whether you are a professional services company, brick and mortar or technology startup, the program aims to equip you with the essential skills and knowledge needed to succeed. Spanning across topics such as finance 101, to how to write a business plan, to legal basics and more, this program provides a wide range of learning. In addition, the program connects you with local resources for potential next steps as you progress in your entrepreneurial ventures.
Individuals who attend at least 9 out of the 11 workshops will receive an Innovation York Certificate of Completion, illustrating your dedication to learning about the essentials of launching a successful business.
About the Workshop
Being an entrepreneur is often thought of as a lonely feat, however the most successful entrepreneurs know that a strong team is essential to ensure that your business thrives. The team looks to its leader for guidance and support, and having a strong team improves productivity, increases employee motivation, encourages collaboration and builds trust and respect among employees.
This workshop aims to cover the following items:
Design the team you need
Share ways to build a strong team
Assess impact with your team
Rewarding and celebrating
About the Presenter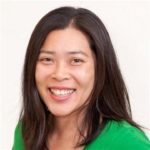 Judy Chang, Founder of Pivot Perspectives
Judy Chang has over 25 years of experience in the food industry leading multiple Fortune 500 teams at Kraft, Mondelez and The Nielsen Company.  She is passionate about motivating and coaching startup leaders to accelerate through developing resilience, elevating knowledge, and enhancing practical skills to uncover your natural leadership style.
She is an intra-preneur and an entrepreneur.  She led startup divisions through aggressive double-digit growth in revenue and fast-growing teams to support. Judy is also the Founder of Pivot Perspectives, a coaching and training organization for entrepreneurs.
In 2019, she co-founded the YSpace Food Accelerator at York University, the first regional Food Accelerator in Ontario, to help startups in the food industry to build effective business plans, validate with consumers, and connect with industry leaders.   She also teaches Entrepreneurship and Effective Leadership at Seneca College of Arts and Technology.
*Zoom link will be accessible in your Order Confirmation page emailed to you after registration (click on "Go to Online Event").