When:
October 26, 2021 @ 6:00 pm – 8:00 pm
2021-10-26T18:00:00-04:00
2021-10-26T20:00:00-04:00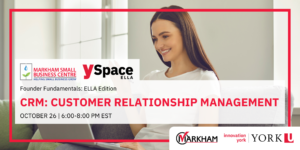 Founde
r Fundamentals is an 11-week virtual workshop series designed to help you kickstart your entrepreneurial career.
About Founder Fundamentals
Interested in building your entrepreneurial skills to launch your startup? 
YSpace, York University's entrepreneurship hub, is partnering with the Markham Small Business Centre (MSBC) to host a 12-week virtual educational program called Founders Fundamentals. The workshop series is designed to help participants gain the basic skills and understanding necessary to start a business. The ultimate goal is to provide participants with an educational platform, while connecting them with local resources for potential next steps as they progress in their entrepreneurial ventures. This special "ELLA Edition" of Founder Fundamentals is held in collaboration with ELLA, York University's community for women entrepreneurs, and will feature women facilitators with workshops designed to support our diverse community of aspiring and early-stage entrepreneurs. 
Individuals who attend at least 9 out of the 11 workshops will receive an Innovation York Certificate of Completion, illustrating their dedication to learning about the essentials of launching a successful business.
About the Workshop
Customer Relationship Management (CRM) is a technology for managing your business relationships, including interactions with customers and potential customers through the entire customer lifecycle. Using CRM tools can help you improve business relationships to grow your business, stay connected to customers, streamline processes, and improve profitability.
This workshop aims to cover the following items:
Explain what a CRM is and how you can effectively use it
Learn how to track your interactions and your clients' engagement
How to use your CRM to help you close more deals
Best practices for how to use a CRM to be more productive and profitable, even if you don't have a budget
About the Presenter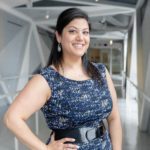 Jessica Rawwley
Jessica Rawlley is the Co-Founder and Head of Growth at TIEIT, a leading edge, data insights and all-in-one sales, marketing and business management platform.
Out of challenges that her company faced managing a scaling company, they then created TIEIT to help other small businesses become more efficient in their day-to-day operations and implement automations and the latest innovative tools to help their businesses grow.
With users across the globe in various industries, TIEIT is changing the way businesses operate to improve the overall customer journey. TIEIT becomes the backbone of an organization helping teams improve efficiency, collaboration and captures all important data in order to gain insights to better the communication and engagement with customers. TIEIT is made up of all essential modules that any business needs from sales, marketing, billing, scheduling and more, all in one, powerful and easy to use application.
Over the years, Jessica has won various awards including the 2018 Entrepreneur of the Year Award and the 2020 Woman of Excellence Award. She is also passionate about giving back to the entrepreneurship community and volunteers her time as a mentor for women entrepreneurs for the ELLA program at York University and mentors and teaches youth at Y2 Entrepreneurship Labs.
*Zoom link will be accessible in your Order Confirmation page emailed to you after registration (click on "Go to Online Event").