When:
February 4, 2021 @ 6:00 pm – 8:00 pm
2021-02-04T18:00:00-05:00
2021-02-04T20:00:00-05:00
Founder Fundamentals is an 11-week virtual workshop series designed to help you kickstart your entrepreneurial career.
About Founder Fundamentals
Interested in building your entrepreneurial skills to launch your startup? YSpace, York University's innovation hub, is partnering with the Markham Small Business Centre (MSBC) to host an 11-week educational program called Founders Fundamentals.
Whether you are a professional services company, brick and mortar or technology startup, the program aims to equip you with the essential skills and knowledge needed to succeed. Spanning across topics such as social media marketing, to how to write a business plan, to legal basics and more, this program provides a wide range of learning. In addition, the program connects you with local resources for potential next steps as you progress in your entrepreneurial ventures.
Individuals who attend at least 9 out of the 11 workshops will receive an Innovation York Certificate of Completion, illustrating their dedication to learning about the essentials of launching a successful business.
About the Workshop
Traditionally we think of businesses, charities and entrepreneurship as completely different worlds. Businesses sell products or services to make a profit, charities purposely work to address social issues and entrepreneurs strive to innovate. However, increasingly, socially-minded entrepreneurs and innovative nonprofits are tearing down the wall between these worlds. They are merging profit, purpose and innovation to create a powerful new hybrid: the social enterprise. Profitable businesses that innovatively and sustainably tackle problems locally, nationally or internationally. In this workshop, you will get an introduction to social entrepreneurship, and in particular, you will learn:
-How, Vesta, a Canadian social enterprise, came to be;
-What is a Social Enterprise and what makes it unique, and;
-The Rewards and Challenges of building a social enterprise.
About the Presenter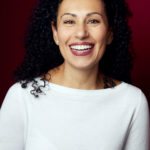 Lucrezia Spagnolo is the Founder and CEO of VESTA Social Innovation Technologies; a social enterprise at the intersection of gender-based violence, technology, and access to justice. To support survivors of sexual assault, VESTA Community, an online anonymous reporting tool, was created. In partnership with sexual assault centres and police, survivors can access local services and can provide police with the circumstances of their assault with the option of remaining anonymous.
Prior to starting VESTA, Lucrezia was an Executive in the international payments industry. She held a variety of roles in small, medium and Fortune 500 companies, in Canada and abroad. Lucrezia's extensive experience and empathetic leadership made her a s
ought after leader, often promoted to lead international expansion and business transformation. Her social entrepreneurship journey began in 2013, when as an Executive-In-Residence of the Ashoka Foundation, she worked with a social enterprise in Mexico to transform their business processes to expand to other countries and scale their impact.
Lucrezia is a graduate of McGill University and is a sought after speaker on Social Justice & Entrepreneurship, Tech4Good and Women and Gender Equality.
*Zoom link will be accessible in your Order Confirmation page emailed to you after registration (click on "Go to Online Event").