When:
August 30, 2022 @ 6:00 pm – 8:00 pm
2022-08-30T18:00:00-04:00
2022-08-30T20:00:00-04:00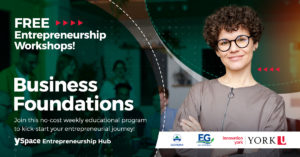 Business Foundations is a free nine-week virtual workshop series designed to help you kick-start your entrepreneurial career.
About this event
About Business Foundations
Interested in building your entrepreneurial skills to launch a new business or want to build on the foundation of your business?
The Town of Georgina and the Town of East Gwillimbury are continuing a partnership with York University's YSpace to deliver a two-year Business Incubator/Accelerator pilot project to support entrepreneurs and economic growth during the recovery phase of the COVID-19 pandemic and beyond.
Whether you want to learn how to start a business or have a business of your own this program aims to equip you with the essential skills and knowledge needed to succeed.
This free-of-charge educational workshop series covers Building a Business Plan, Setting Up Business Operations, Marketing, and Social Media. Additionally, individuals who attend at least seven out of the nine workshops (minimum of one hour on each call), will receive an Innovation York Certificate of Completion, illustrating your dedication to learning about the essentials of launching a successful business.
About The Workshop
Customer Service 101
Whether you have an established business or starting a new business, great customer service makes all the difference.
In this workshop you will learn:
Effective practices for how to approach and interact with new customers
How to personalize your customer experience
Customer retention methods
How to provide customer service through multiple channels
The do's and don'ts of customer service
Methods to encourage customer feedback
Sign-up to learn the tools and methods to assess and improve customer service in your business.
*Zoom link will be accessible in your Order Confirmation page emailed to you after registration (click on "Go to Online Event").